From St Andrew's Bus Station, Edinburgh, I catch the 900 bus to Glasgow. The day is overcast but warm and the bus is busy with students and pensioners taking advantage of the cheap ride to the city. Long before we reach the M8, I notice a man sitting adjacent – probably in his 30s, nondescript scruffy, looking slightly troubled, but bearing no clue to his status. Reaching into his rucksack he pulls out a packet of custard creams. I avert my eyes while, one by one, he scarfs the entire packet. Is he hungry, I wonder? A sugar craving?…
On the 900 bus a trio of females – mother, two daughters – occupy three rows, two seats apiece. Each of them has a mobile, each with its own ringtone – George Michael's Careless Whispers the winner in the irony stakes. The younger of the two sisters gets a call – her ringtone some generic electro racket. Hullo? She listens. Who's this? she asks. She listens some more. Unsure but assertive, she speaks up. Who is this? Alerted, Big Sister jumps from her seat to mob-hand Wee Sister, as if her presence alone will threaten the mystery caller. It's…
I didn't know it at the time but in November 2004 I left Glasgow to live in Edinburgh. This came about after a trio of deaths in the family. That, and a creeping disaffection with my home city. Glasgow looked like it was sleeping rough, with Sauchiehall Street standing in for Pottersville, George Bailey's hallucinatory hellhole in Frank Capra's It's a Wonderful Life. Thanks to the city's planning and licensing laws, the strip between Charing Cross and Rose Street promoted two competing rows of incontinent bars, gambling venues, fast food joints and charity shops, their signboards changing every few…
Having missed the actual explosion on the morning of Sunday, June 1st, on my way to the Glasgow Necropolis I stop to pay my respects to the demolished twin towers at Stirlingfauld Place. Between Cumberland and Gorbals Streets lies 50,000 tonnes of post-apocalyptic concrete where only a week or so ago there were two high-rises, equating to 552 homes and who knows how many inhabitants.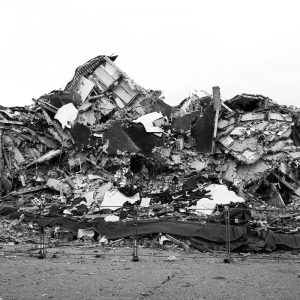 The pictures can't convey the startling scale of this sight, but it's one being repeated all over the city as the tower blocks of the 60s…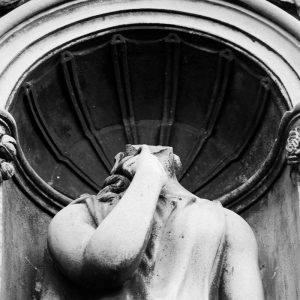 Lately I've been obsessed with numbers. Not the Lottery kind, but the numbers attached to magic and superstition. After my last trip to Camphill Earthwork and recalling the three rings drawn by Marsha, the American psychic who visited the site with Harry Bell, it occurs to me that I'm developing a small fixation. But then, who doesn't place faith in numbers? It might be phone numbers, PIN numbers, birthdays, bus numbers, even bingo – we each have our preferences and prejudices, no matter how irrational.
For instance, during my recent house move, I was pleased to find myself living at…
It's July and the rain – alien, sub-tropical rain, not normal Glasgow rain – is so torrential and persistent it takes over a week after my walk with Ronnie Scott to return to the Necropolis to shoot material for this project. A worn-out film adage – 'you can't buy the weather' – never rang truer than during a Glasgow summer. But I'm not in the market for artificial continuity, so I have to go with what I'm given. Actuality wins the day.
Now, I realise, isn't the ideal time to be shooting sightlines across the city. Like the Camphill Earthwork,…