With Mercury in retrograde all communication is in a state of confusion. Since the house move in late April I've waited in vain for our new broadband connection and grown frustrated at my inability to make contact with the world. Then again, I tell myself, what's the point of all this communication unless you have something to say?
Several years ago on a rare trip to London, I struggled to tell an acquaintance about an idea I had for a…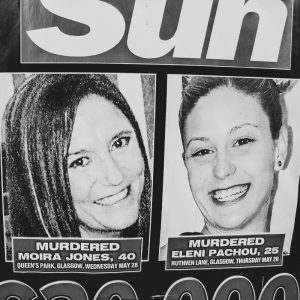 Two weeks after the murder of Moira Jones and the subsequent high-profile police investigation, Queen's Park is reopened to the public. At first the locals, maybe hesitant, choose to circle the park perimeter while keeping a watchful eye on what's happening behind the railings. What's happening is TV news crews are out to solicit pedestrians in the optimism that with the right leading questions they'll stir up soundbites about how the community – women especially – are now too…
During the 1970s, one day I strayed from the post-war sprawl of Linthaugh Road in Pollok to an enclave known as Corkerhill, passing the railway workers' cottages and trespassing on impossibly rural farmland. By pure chance I had arrived at a strange and magical place. Pollok Estate wasn't so much a park as an exotic parallel universe. Here was an old and venerable mansion, Pollok House, with its artefacts and formal gardens and ancient gnarled beech, the White Cart…
X marks the spot. The phrase originates from the early days of press photography where the scene of a crime was marked with the letter X. So when I look up Cathkin Braes on Harry Bell's Glasgow Network of Aligned Sites, I'm intrigued to find a large X crossing the site, situated – it's claimed – on the thirteenth hole of the Cathkin Braes golf course.
One line of the X passes through the Camphill Earthwork from…
I'm in King Street framing up the clock tower at the back of Rutherglen Old Parish Church when Tommy sidles up, an Olympus compact in his hand, eyeing up my tripod and camera. You're a photographer? It's 7 o'clock on a Friday night and I'm here because the Glasgow weather doesn't stick to timetables. Not really, I reply as I take the shot. Tommy, short, wiry, probably in his late 50s, shifts from foot to foot, eager for more…
Now that the clocks have moved forward, the days are lighter and the air sweeter. No better time for me to make the third and final set of trips if I'm ever to complete this project. It's fitting then that the first of these requires me to attend to unfinished business – Carmyle Fords, a place of some significance to my inspiration, Harry Bell, on his quest to find a fording point across the River Clyde. The location is…