Having missed the actual explosion on the morning of Sunday, June 1st, on my way to the Glasgow Necropolis I stop to pay my respects to the demolished twin towers at Stirlingfauld Place. Between Cumberland and Gorbals Streets lies 50,000 tonnes of post-apocalyptic concrete where only a week or so ago there were two high-rises, equating to 552 homes and who knows how many inhabitants.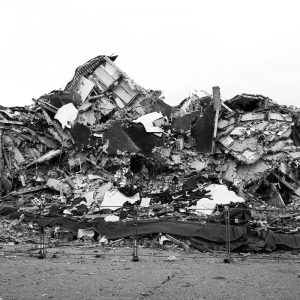 The pictures can't convey the startling scale of this sight, but it's one being repeated all over the city as the tower blocks of the 60s and 70s come down. In Sighthill, Red Road and Shawlands, similar blocks are due for demolition, some more controversially than others. Glasgow Housing Association, the largest private landlord in Western Europe since the transfer of the city's housing stock in 2003, is accused of ghettoisation by running down the city's 24 hour concierge service and deliberately allowing viable housing to fall into disrepair.
There's something resonant about these piles. Somehow they still contain the memories of those who lived in them, the families raised in them. How easy it is for politicians and commentators to condemn these buildings as slums when for so many people they represented progress in the light of the slum clearances during the 1960s and 70s. I never lived in a high-rise myself, but many members of my family did and for them having an indoor toilet, a bath and heating was considered luxury.
And while it's true some blocks were blighted from day one, notably Hutchie E, razed only 27 years after its construction, it's equally true that compared with the cost of demolition, many high-rises could – arguably should – be redeemed as affordable accommodation for those who can't buy into Glasgow Harbour.
The demolition of Laurieston reminds me that while the equivalent of an entire street can be razed in a matter of seconds, the Necropolis is taking longer to return to dust. If any kind of logic can be applied to the Glasgow Network of Aligned Sites, it's that the Necropolis, along with The De'il's Plantin, Crookston Castle and Camphill Earthworks is a major junction, a hub to several other alignments. Since I've already visited the other three locations, today's trip takes me to what is possibly the most significant of these sites.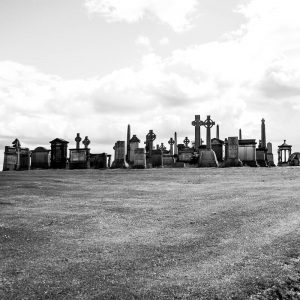 Where's Ronnie Scott when I need him? I've swapped emails with the writer and historian ever since I was contacted by David Leask at the Herald newspaper about my interest in the GNAS and Glasgow in general. He put me in touch with Ronnie and ever since we've promised to take a walk from the river to the Necropolis. Inevitably work and life managed to sabotage our plan but I live in hope. Ronnie is the author of Death by Design, a history of the Necropolis, a fantastically eclectic Victorian cemetery, opened in 1833 and situated on an elevated site in the heart of the old city. In 2007, Ronnie wrote a paper on the symbols of Freemasonry in the Necropolis and in a Herald article by David Leask, the site is described as a giant masonic symbol, fully 37 acres of landscaped metaphor.
I liked the sound of this. For years I've visited the Necropolis, drawn to its exoticism, its eccentricity, the magnificent craft of its stonework and not least its position high over the city. So I was fascinated to read about the history of the cemetery on the Glasgow City Council website – Heritage Trails
Before entering, I take a detour round the Cathedral Precinct. Dotted round are statues, mostly by John Mossman, of the city's great and good – the three Jameses – Lumsden, White and Arthur – philanthropists and businessmen. There's also an equestrian statue of William of Orange, erected in 1735 by James Macrae. Here King Billy poses as a Roman emperor, mounted on a horse whose tail is attached by a ball and socket to thwart rioters and vandals.
Another notable statue is of David Livingstone, perhaps less interesting for its portrayal of the missionary than for the reliefs on its plinth, where one section depicts a savage native whipping a cowering woman and child. Directly beneath the statue of the man himself, the same natives, presumably reformed, listen attentively to the Doctor reading from the good book.
It's plain that money's been spent here in recent years, not least on the landscaping and Saint Mungo's Museum of Religious Life and Art. The changes are not unwelcome, but I can't help but notice this show of cash is but a stone's throw from the long-closed Great Eastern Hotel, once a familiar landmark and home to the homeless. Also hard to ignore is Drygate, a small housing scheme, the kind of place film and TV location managers slavver over when looking for locations to double as Ukrainian suburbs.
They say it's the thought that counts. Here I note the discrepancy between two commemorative plaques. Embedded into the wall of the Museum is a carefully-hewn stone 'laid' by HRH The Prince of Wales, whilst yards away, not attached to a building but to a low-level lump of granite, is a modest metal plate dedicated to the 167 men killed in the 1988 Piper Alpha disaster. Here I note the curious use of the word 'sacrificed' as if to suggest, like soldiers at war, these men knowingly laid down their lives when the fact of their tragedy was more prosaic – it was not sabotage that killed these men, nor corporate negligence (although always a possibility) but an unfortunate and random event.
Today the square's quiet. The only people around are a few staff from the Royal Infirmary on a fag break, some in white coats, others carrying chunks of polystyrene foam to avoid the chill of the granite benches. A handful of tourists emerge from the Cathedral, looking bleary and lost.
Passing through the Necropolis gates, I can't help but see a family entering a block next door – mother, father, son and daughter. Clearly Dad's got his dander up about something and casually slaps the girl on the head – tiny, dirty blonde and bespectacled – before returning my stare with a caught-in-the act hostility as he shoos the kids indoors. Life, huh, I think, but let's see how death's faring.
Closer inspection of the ornate black and gold cast-iron gates displays the name of (I'm assuming) one of the cemetery's latter-day corporate sponsors, the Dean of Guild, William Brown of Kilmardinny, a fact omitted from the council website's history. Instead we're told that the gates were erected in 1838 at a cost of £150. The Latin inscription toties redeuntis eodem – so often returning to the same place – is the motto of the Merchant's House. This rings true on so many of levels, I think to myself, as I approach the Bridge of Sighs. I've lost count of how many times I've been here.
Today's visit is a recce. There's so much to take in that I need to narrow down my wishlist before returning to shoot moving pictures. Not that much moves, thankfully. The estimated 50,000 inhabitants of the City of the Dead are quite still. I hope. Walking in a clockwise direction, I spot a council truck rolling down a slope towards me. A guy riding shotgun pops his head out – breathe in, he shouts cheerily – as the truck inches past, almost edging me off the path.
I walk on, taking pictures as I go, marvelling at the ornament: Gothic, Celtic, Baroque, Egyptian, Greek and others too bizarre to categorise. I'm on the lookout for Ronnie's masonic symbols. Reading the council's version of events, I'm struck by a passage –
Since medieval times the Necropolis has been separated from the Cathedral grounds by the Molindinar Ravine. Unfortunately the Molindinar stream is now culverted beneath Wishart Street, which incidentally is named after George Wishart – the mentor of John Knox. Legend has it that St. Mungo was obliged to bury Fergus, a holy man from Carnock near Stirling. Fergus's dying wish was that his body should be placed on a cart drawn by two untamed bulls and Mungo was to follow the bulls and bury Fergus where they stopped. The next morning St. Mungo harnessed the bulls to a wagon and placed Fergus's body on it. They travelled West for some thirty miles before they arrived at a charming glen, with a great grey rock on one side and a beautiful burn beneath. This is where Fergus was buried and St. Mungo built his cell here. The burn was the Molindinar and the great grey rock was the Fir Park, now the site of the Glasgow Necropolis
Didn't Harry Bell refer to this in the Secret Geometry? He quotes from The Life of S. Kentigern, (St Mungo's other name) commissioned by Bishop Jocelyn in the 12th century during the rebuilding of Glasgow Cathedral. It is, Harry Bell says, the earliest known reference to a track or road in the Glasgow area.
And in truth, the bulls, in no way being restive, or in anything disobeying the voice of Kentigern, without any tripping or fall, came by a straight road, along where there was no path, as far as Cathures, which is now called Glasgu …
But where exactly was this road? It would take Harry Bell some deep searching before he found a likely site. Me, I'm trying not to get ahead of myself. Looking up I see the imposing 70-foot John Knox Monument which, judging from the points plotted on Google Earth and sent to me by Grahame Gardner, is the exact spot where several of Harry's alignments meet. Thanks to my lens, I get a close-up of Knox in his Geneva cloak, his face dark and brooding against the summer sky. The monument, with its 58-foot high Doric column, was erected by James Carmichael in 1825 and predates the cemetery.
It's unsurprising that this site is deemed important by Harry Bell, given its commanding position. It's fortunate for Glaswegians that the land was considered not commercially viable as a quarry, and to it's the credit of the Glasgow merchants that they seized the opportunity of parcelling off plots to create this unique landmark. I realise now it's going to take more than a few hours to capture the riches offered here. Days, more like.
Heading downhill, by chance I pass a modest memorial stone that seems to be giving me the eye. Sure enough, there's a row of eyes carved around its edge, along with Egyptian markings. Are these some of the Masonic symbols Ronnie Scott wrote about? I sense I've only just scratched the surface of this place, telling – no, nagging – myself that I need to return soon with my camera. Time's moving on and, after all, you're a long time dead.