Out of the blue, last summer brought an email from a man claiming to own half of the Cochno Stone, the most elusive of all the places mentioned by Harry Bell in his Gazetteer of Sites. My search for the Cochno, or Druid Stone, features in an earlier blog. The stone, arguably the most significant cup-and-ring marked stone in existence, became something of a lost cause for me.
Measuring 55 by 35 feet, its surface carved with a series of concentric rings, a crossed circle (also known as a sun wheel) and perhaps even more curiously, a set of four-toed 'footprints', the stone was buried under a metre of soil in 1964 to deter vandals and for almost fifty years has remained hidden. What wouldn't I give to see it?
My curiosity piqued, a phone call later, Dave invited me to visit. I didn't need asking twice. Arriving at his house on a rain-swept Friday afternoon, I was welcomed by Dave and Elaine, his wife of almost 51 years, who abandoned her needlework to ply me with coffee and home baking. It's bashert, she said, commenting on my visit – bashert being the Yiddish term for destiny or fate.
Dave, enthused by our shared interest in the Cochno Stone, handed me a dog-earred copy of The Prehistoric Rock Art of Southern Scotland written by Ronald. B. W. Morris who, as he told me, arrived uninvited on his doorstep. Reluctant to loan his copy (abused by another enthusiast), Dave suggested I could track down my own. Which I did, only to discover two used copies on sale on Amazon at £80 and £125 respectively.
Dave offered several documents confirming his half-ownership. Among them, an aerial photograph taken decades ago reveals the site of the stone, situated on the boundary of his three-acre garden. But what exactly does he have in mind? As co-owner of such a beautiful and occult artefact, Dave tells me he would love to see the stone uncovered – but where to start?
In borrowed wellies, I followed Dave outside as he guided me through his vast garden towards a dry stone wall – the boundary between the garden and the stone. Dave stood aside as I waded through dense bracken and tall grasses, arriving at a set of vertical scaffolding poles woven with chicken wire. Behind the wall, the poles and the wire – not to mention the metre of soil – lies the Cochno Stone. I would defy anyone to find it because for weeks I looked for its approximate site, unaware it lay in both public and private land.
After viewing the site from Dave's land, he suggested we see the other, 'public' side of the Cochno Stone by walking a few hundred yards on the public road outside his land. He pointed out a rusted gate – unaccompanied by any wall, railing or fence. Close to Auchnacraig it's a place clearly overlooked by West Dunbartonshire Council in spite of being 'wild' landscaped in recent years.
Having agreed to contact the relevant players – namely the council and Historic Scotland, we part company. Over the following weeks, after many calls and emails, I persuade Historic Scotland to make a site visit to discuss the possibility of an excavation. Excited, I email Dave with the news, deflated when I hear nothing. Several weeks pass until, one September day, I receive a reply. However it's not what I expected. I don't learn the actual date but according to his son, Dave passed away suddenly.
There are moments in one's life when words fail. That afternoon I sat silently in my shed, gazing at a photograph of the Stone, its carved surface filled with chalk, taken during the excavation prior to its burial in 1964. I thought of Dave and his wife and how, in a few short hours, I learned so much about their lives – how Dave's engineering career brought him from the Midlands to Clydebank and the Singer Factory, and how he and Elaine had two sons and how during their retirement they had ventured up the Amazon.
I return to the area in brilliant sunshine, the ground frozen solid. I'm shooting for one of Mary Ross' episodes where she attempts to locate Novo's original owner in Faifley but I have no shots that truly identify the place, hence the visit. Ironic given that I made so many trips to Duncolm and Cochno at the expense of this small housing scheme, situated close to Hardgate, Edinbarnet and Duntocher on the city's edgelands.
What's striking about the entire area are the pylons planted firmly, dwarfing both the tenement blocks and low rises. An accident of planning, I wonder? It is eerily quiet as I take my shots – only a postman and two small children pass me. Close to the bus terminus I notice a sculpture of a mother and child constructed of fused cable.
Beyond the terminus, I arrive at a patch of grass and a strange pyramid built of granite setts and rough mortar. I look at it from several angles, trying to fathom its purpose. At its base lie the remains of a recent campfire and curiously, in addition to the usual detritus, a pile of blackened food cans, suggesting less a neighbourly barbeque than a Hooverville kitchen but in reality it's probably just the local weans escaping from the microwave.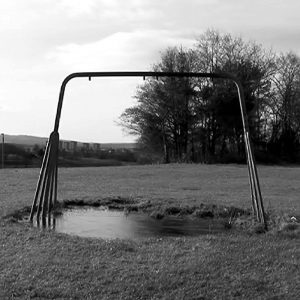 Musing on the absence of swings in the swingpark, I'm alerted by a trio of horses and riders taking a shortcut through the scheme in the direction of Hardgate. Plainly I'm no longer in the city, although Faifley could be mistaken for virtually any Glasgow scheme. Only it's not. It lies on that edge of the urban and rural and, as my husband informs me, is a far more dangerous place to be than the city – it is, he's convinced, the Badlands, where people hold their privacy – and their deviance – dear. As if on cue, moments later, as we pause by the derelict Cochno watertower we're accosted by two fat women in a van. "This is private land" pipes up one of them. Me – "Where's the sign?" Her – "I'm phoning the police.". Me – "Do that." There's a momentary standoff as she toys with her phone but I know she won't make the call. She drives off in a rage.
My final destination is as close as I dare to the site of the Cochno Stone. In the grounds of Dave and Elaine's house I spot a car, so I decide to keep a respectful distance. Instead I take the necessary shots – of the rusty gate on the edge of their land – and move on. I remind myself we're in the dead of winter and there is nothing much to see, knowing that a few yards away the Cochno Stone lies buried, prompting the thought that it may elude me forever. As I leave I recall Elaine's words – it's bashert.