"I came here to find the past and I found the future."
Stevie Cafferty bounds up to me on a wooded path just off the Cochno Road. He's wearing a brown T-shirt with a Celtic knot motif that matches his brown eyes. There's something of the urban shaman about Stevie – brimming with energy, he fires on all psychic cylinders as he gestures towards the surrounding outcrops, talking of the whereabouts of cup-and-ring marked stones in the area, stones he grew up with, chief among them the Cochno Stone.
Fortunately I'm mob-handed, part of a group of unlikely co-conspirators: a band of archaeologists led by Kenny Brophy of Glasgow University, Richard Salmon, a world-class stone conservator based both in New York and southern France, Ferdinand Saumarez Smith of Factum Arte, a Madrid-based company specialising in art fabrication and replication and Grahame Gardner, dowser extraordinaire, who has followed my project since it began in 2007. And finally but not least, my long-suffering husband, Owen.
Readers of this blog know that the Cochno Stone has long been an elusive quest of mine. For the last seven or so years I've pursued the possibility of its excavation. First, as part of this project, guided by the late Harry Bell, author of The Secret Geometry of Glasgow (1984). Second, when the owner of half of the Stone, David Marks, contacted me but who died suddenly at the very point I had persuaded the relevant parties to conduct a site survey. The third and latest contact came last October from Ferdinand whose researches into Ludovic McLellan Mann led him to the Stone and in turn, to me. His ambition: to conduct a temporary excavation in order to create a full-scale replica, to be sited close to its original location. Given that the Stone measures 55 feet by 35 feet, it's a daunting – but enticing – proposition.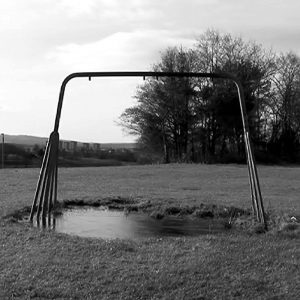 For a long time I've nursed mixed feelings about the Cochno project and my part in it. But what is my role? I've never been asked explicitly. As a film director and screenwriter, for years I've worked with the minimum and the most: TV, large-scale commercial work, theatrical features and no-budget films, some with large casts and crews, others as solo endeavours. Making any film is hard-won, creatively, often emotionally and certainly financially – and so it should be. In the context of the Cochno Stone, however, the prospect of a film about it is, as I write, entirely moot.
There's a perception at large that making films is easy. After all, today on YouTube and Vimeo supply outstrips demand. But as with all creative endeavours decisions must be made. What's the story/editorial line? Who's writing the script? Where will it be shot? Who's going to shoot/light? Who's going to record sound? Who and what's in front of the camera? Who's editing the footage/audio? Who will supply the necessary equipment and cast and crew? What about transport? Will there be music, CGI, titles? If so, who will create them? And that's before the wherewithal is raised to realise all this creativity.
Any film, be it no-budget or gilded by the largesse of backers, has to be willed into existence. But the greatest investment in any film is that of the maker. That, and the story. Here the operative question is: what and who is this story about and why should anyone care? So in this context I ask myself – what exactly is the story of the Cochno Stone? And in telling it, will it have a happy ending? Or should it? I could tell the tale of Ludovic McLellan Mann, for instance, using his eccentric theories of the landscape as the narrative spine. Alternatively I could round up all the interested parties to make a functional documentary with the requisite (if predictable) jeopardy and revelation. Or I could conceive of a more poetic and fantastical film focusing on the Stone's Neolithic origins, its meaning and the human urge to communicate. But whatever it takes would mean a two-year commitment on my part so until unearthing the Stone becomes a reality all bets are off.
After almost a year of negotiation with Historic Scotland and West Dunbartonshire Council, last Monday the aforementioned group gathered in a common cause – to dig a test trench to reveal the Stone for the first time in 51 years. The aim: to determine whether a complete excavation and replication is viable, practical or even desirable.
On a misty Monday morning we meet at the Cochno Road car park. Kenny has enlisted a band of willing students who appear in good spirits, wheeling tool-laden barrows to the site that has already been cleared by an obliging trio from West Dunbartonshire Council Land Services. This proved necessary because from previous visits I know that during the summer the site is shoulder-high in bracken with low-lying tree branches and uneven terrain ready to trip the unwary; plainly the Stone doesn't get many visitors.
I had come with Ferdinand and Richard who stayed with me for the duration. The last time we had met was in December during the weather-bomb, along with Kenny, John Raven of Historic Scotland and Donald Petrie of West Dunbartonshire Council. In high winds and horizontal sleet we stood on top of the Stone discussing a future test dig. Nine months on we were reunited, a reminder of how long it takes the wheels of bureaucracy to grind into gear.
From a filmmaking perspective, the light wasn't promising but as the turf was lifted and the trench marked out, the sun appeared, heralding an Indian summer that in these parts can be deceptively short-lived. Eventually I stood my camera to record the first shots – a run and gun effort of documenting rather than anything narrative-driven. As I see it, better to have the shots than not, even if only for archival purposes.
The Stone soon yielded itself. According to the scant record of a 1964 excavation made by Glasgow University's Archaeology department, the Cochno Stone lies buried under a metre of soil. For the test section at least, this proved not to be the case when, after digging down less than 2 feet, Kenny hit bedrock. At this point, Richard Salmon intervened. His expertise – stone conservation – has taken him all over the world, advising many leading museums and galleries on the conservation and restoration of stone artefacts. His early concern – that the Stone might have been compromised by water and root damage – appeared unfounded.
The following day the team regrouped to perform the delicate task of brushing and washing the Stone's surface to reveal its marks: several cups, rings and – unexpectedly – recent carved graffiti. Around the rim of the trench there was speculation – did the graffito say 1905 or 1965? – placing a question mark on whether the Stone was, as stated, buried in 1964 'to deter vandals' or at a later date. My guess is that, if uncovered, the Stone's surface will have its fair share of mentions etched indelibly by the locals. And why not? Human nature being what it is, it's reasonable to assume that it would have attracted a few additional carvings in its 5000-or-so year existence.
At the close of day two, once Kenny and his students had departed, Mrs. Marks, the owner of half the Stone (buried in her adjoining garden) visited the site, her arms linked to Richard and Ferdinand's as she stepped up to the trench. Peering into the hole, her reaction was one of bemusement – why would anyone want to dig it up? Who knows what it means anyway? Given that her late husband had contacted me with a view to digging it up, it's understandable, if disappointing that she's hesitant about the prospect of a full-scale excavation. While not wholly opposed to the idea, the entire project now hinges on her permission because without her blessing – and the funding required to fulfil the task – the Stone will remain buried.
Judging by the emails I've received and hearing from the people of Hardgate and Faifley, the Stone has played a significant part in their lives. I've heard numerous accounts from those who recall the Stone in its pre-burial days, their memories of playing, picnicking and other, less savoury pursuits in its vicinity. Certainly during the test dig I was moved by the number of people – enthusiasts, neighbours, even a party of awestruck 5-year-old schoolgirls – who approached to offer their own accounts and knowledge of the Stone, plainly held in affection. Witnessing these memories rekindled, as a bystander in this slowly unrolling drama I really hope their expectations of seeing the Stone can be fulfilled in the not-too-distant future.
By day three, the test trench – a mere 1 metre by 4 metres – had offered a tantalising glimpse of the Stone. Having documented and photographed the site, in a matter of hours the hole was backfilled, the turf re-laid and the site left as we had found it. En route to the car park, while taking a detour to find another cup-and-ring stone rumoured to be lying on open ground, we encountered Stevie. He told us he had come from nearby Dalmuir to see for himself, adding, like many others, that he has memories of playing on the Stone as a kid and is excited by the prospect of an excavation. Undeterred, he offered to show us a local cave and so led us Pied Piper-style to a site close to Whitehills Farm only to lose his bearings. Conceding defeat, Stevie led us back to the road and bid us a cheery goodbye. The following day I bid my own farewell to Ferdinand and Richard as they left for points south and west.
Postscript. On Sunday I returned to the site to take a few additional shots. I also went to neighbouring Faifley to shoot some general views. On my last visit to the scheme in 2012, a freezing January morning, I recall thinking that it was probably be the last time I'd ever have a reason to be here. In my line of work though I've learned to never say never but I know too that for the planets to align is a rare occurrence. It could be that in a year or so I'll be back at the Stone, this time perhaps with a crew and a story worth telling. Or maybe never. In the meantime I console myself that I have another film to make – a whole other story.