I'm nearing the end of my 33 trips, the magic number I set myself in 2007. In that number, I decided, I would bag as many of Harry Bell's sites as possible in an attempt to prove that the aligned sites of Glasgow and its environs hold the key to a secret geometry. My trusty OS maps – the Landranger 64 and the Explorer 342 – are a bit frayed at the edges. For the last ten days it seemed I might not get the chance to use them. In a re-run of last summer, skies in forty shades of grey and torrential rain are the norm. Only it's not. Glasgow gets its fair share of rainfall but I've never known rain like it; rain cast from liquid lead. Bullet rain.
Last night I charged batteries, put timecode on tapes, pored over maps and generally prepared myself. With an eye on the forecast, I'm relieved to find not one but two clear, sunny days ahead. Time to head for the hills again, but not just any hill. Since taking on this task, one particular hill has eluded me every time I've scanned the horizon and even with the weather on my side I'm not optimistic I'll ever find it.
Also last night I was glued to Channel 5, watching The Da Vinci Code, followed by a documentary about Henry Lincoln, one of a trio who wrote The Holy Blood and The Holy Grail, the book allegedly plundered by Dan Brown for his own, with the former losing a lawsuit against the latter. Oddly – or not so oddly – Lincoln's C.V. runs to a few eps of Doctor Who, though it shouldn't be held against him. What got my attention was the absolute certitude with which Lincoln traced shapes on maps of Rennes-Le-Chateau: a series of pentangles, the geometric form most favoured by conspiracy theorists.
I only reference The Da Vinci Code because when the SAC Creative Scotland Awards were announced in March 2007 and, floundering to find a media-friendly soundbite, I lit on the movie as a shorthand description of my project, only to find myself in the headlines. What I neglected to mention in my pitch are the myriad layers of the work: the medium, (video and stills) the choices involved, (black and white, psychoacoustic sound design) and exploring how the story of Glasgow's secret geometry can be told (a script featuring two characters, either or both of whom might be insane).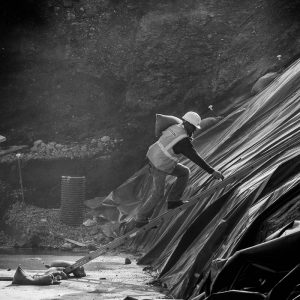 On a Monday morning, even this sunny one, when most folks are doing real jobs, it's remiss of me to complain about having to go out and do my work. Heading west, I avoid the A77, the M8 and the A82, opting instead for the Arc Bridge over the River Clyde towards Dumbarton Road, the A814, an old road passing though old districts – Partick, Victoria Park, Scotstoun, Yoker. Crossing the junction at Kelso Street close to where, according to motion picture consultant and archivist, Brian R. Pritchard, the Rank Film Laboratories once serviced the entire country. It's a place I know only too well, having used it a few times, where my one-light rushes usually returned with a yellow cast.
The architecture shifts: tall red sandstone tenements give way to low-level, pebble-dashed apartment blocks. More conspicuous are the massive gap sites, the footprints of long-dead industry. Clydebank was a major Nazi target, whose planes took out more dwellings than ships, a fact that ought to fire a warning to anyone who believes that basing all of the UK's nuclear subs in the Clyde, announced by the Government only last week, is either strategically or politically sound in a world where a box-cutter or a bottle of water can be considered a weapon by the state. Warships are still built on the Clyde, only these days they're called modern surface defence craft.
I pull into a side street, a cul-de-sac, cut short by the river. A man – probably in his 50s, wearing a hardhat – gestures at me to stop. I stop. He asks if I can reverse a few yards. There's a building coming down the other side of where you're parked. Only then do I notice the bulldozers on the other side of large plate glass windows. I quickly reverse. The man, Neil, tells me it's the old John Brown Joinery Workshop but all that remains is an undistinguished façade dating from the 60s, possibly earlier. According to Neil the current developers want to retain it.
He diverts my attention to the building directly opposite, a mildewed lump of blonde sandstone, a generic piece of aspirational Victorian splendour, dilapidated, if not entirely derelict. That's a building you should look at, says Neil. I look up at a crest and the insignia – Labore Et Scientia. Later I learn it's the coat of arms for Clydebank Burgh.
The escutcheon may look ancient but it's relatively recent and features some curious elements: a sewing machine representing the old Singer factory and the depiction of the warship, HMS Ramillies, built on Clydebank – images replaced in 1975 when the District Council took charge. The Latin motto translates as 'by effort and knowledge'. Overall, the impression is one of archaic quaintness, symbols of heavy industry and engineering now as defunct as the horse-driven carriage or the steam locomotive. The dominant landmark, the mighty Titan crane, that once built great ships now offers tours for a modest admission charge.
I take a few photographs of the demolition and catch my reflection in the mirrored window of the old Joinery shop, recalling that this was where the opulent interiors of the great ocean liners were created, men hunkered over drawing boards, handing down blueprints to the craftsmen. For all of them, it was a job requiring pride as much as skill. Somehow the sentiment behind Labore Et Scientia belies the motives of those captains of industry, the financial mercenaries who, in the teeth of dwindling margins made the work melt into air, and with it the spirit of Clydebank.
Thankfully the road ahead is straight. Passing through Old Kilpatrick, I pause at Bowling. According to a hillwalker's website, there's a path that leads towards Duncolm, although I can't figure why anyone would start on the wrong side of the A82. Still, on the OS map is a nearby site marked Roman remains. Either way, it's an opportunity for me to check out Bowling, a mix of the picturesque and the workaday. I find a derelict church, some social housing and the disused railway line, now a cycle path leading towards Loch Lomond.
Reaching the river, I wander round the locks, admiring the small craft moored here. Time was when Bowling catered for industrial vessels, but today it's exclusively for leisure. The old Custom House building still operates and overall the site is well maintained. I find an incongruous monument to the Millennium, the newest addition to the location but ironically the worse for wear amongst all this ardent preservation.
Soon I realise that even if I stumbled on the right path, I would still have to navigate my way across the dreaded A82, so giving up on Bowling and Old Kilpatrick, I travel towards Duntocher to pick up the road towards Hardgate and Cochno. At least the weather's improved since my last trip. On the road I pause to look at a new housing development, Cochno Brae, virtually identical to every other new development.
Turning up a rutted road, I park up near the water tower and set off to discover the elusive Duncolm by way of a rough track, which by the look of it was once paved but is now reduced to coarse aggregate, possibly made from demolished Glasgow flats. The new season's greenery lines the route: dock, brambles, nettles, hawthorn hedgerows in bloom. A cuckoo calls in the distance. The first butterfly of the season suns itself.
It's all uphill from here. Not being a natural walker, I take my time, soon overtaken by two mountain bikers and a young guy with two Staffordshire Bull Terriers. To the left a dry stone wall runs alongside the Humphrey Burn, swollen with last week's rain, fed every now and then by small waterfalls.
Less than a mile in, I pause, turning to mark my progress. Behind me the city grows more distant and beyond the high-rises and outlying southern slopes, I see the now-familiar shape of Tinto Hill which, according to Harry Bell, lies in direct alignment with Duncolm. For a moment I'm excited, imagining that I'm now seeing what Harry Bell saw all those years ago. Did he come by this track? I have no idea.
My thoughts turn to the end of a road. It's been almost two years since I embarked on this project and in that time I've been afforded the chance to explore places I would never have thought to visit but which have rewarded me with experiences, encounters and lasting memories.
It's clear from reading about Harry Bell that he was not religious in the conventional sense, but reading and re-reading his Secret Geometry and by following in his footsteps, I believe I've found a spiritual underpinning to his quest. Clearly on a pilgrimage, he viewed the land as a kind of reliquary, a vessel in which to float his theory of leys. Me, I'm still undecided. Looking at the maps of Glasgow as he did, I believe if you're looking for places of ancient foundation, you'll soon find them. Right now it's enough for me put one foot in front of the other, although I'm sure Harry wore stout footwear.
I turn again. The city recedes even further yet Tinto, blue-grey, a constant presence, seems more prominent. A trick of the eye. The guy with the dogs has dropped out of sight now, meaning the rocky road is longer than I hoped. Time to put on a pace, make an effort, otherwise I'll be here at nightfall. Suddenly a weird thing occurs – out of nowhere comes a loud and distinct crackle, the sound of radio static. I stop. Did I imagine it? Turning swiftly, I'm alert, ears trained, only to find the noise replaced with birdsong and the rushing of the burn below. I quicken my pace.
I've often wondered why people revere the countryside as somehow pure and untouched when in truth every part of it is as managed as any high street. As I look for traces to prove my case, the landscape morphs into something other – that dry stone wall for instance, a Great Wall of Cochno – somebody actually heaved those stones into place. This aggregate under my feet – spread by labourers contracted by Scottish Water. Those far-off pylons didn't just arrive by themselves either. I turn again – and again Tinto Hill stares back at me, the city now a blur of vague angles.
I have arrived. In front of me is an entrance to what looks like a mineshaft, spouting water not coal. From the map I knew I would reach Greenside Reservoir and here it is. Encouraged, I drag myself on, ascending the last few metres before arriving at a large azure pool, reinforced on one side by a wall. On a nearby bank is the guy with the dogs, eyes downcast, glued to his mobile, barely aware of his surroundings or of me passing by.
On the far side of the reservoir is Duncolm which at 401 metres is the highest of three hills bearing the name, the others being the Middle and Little. In his book, Harry Bell claims the Gaelic name means 'fort of the dove' or 'fort of Columba', but doesn't specify which, saying it could be either.
The first and last time I saw this hill was standing on top of the Devil's Plantation in late 2007, thrilled to see what Harry Bell was thrilled to see twenty-five years or so before. Either the visibility is uncommonly poor in these parts or my eyesight's failing, but ever since that day, even when I returned to the De'il's Plantin weeks later, I was unable to locate it.
Harry Bell made it to the top of Duncolm. It's less the height that daunts me, more the circuitous walk round the perimeter of Greenside Reservoir. Instead I clamber to the summit of Cochno Hill – a lesser achievement at only 348 metres, but still rewarding. From here I get a glimpse of the hills beyond: Ben Lomond and Duncryne, which as Harry noted, appear to fall into alignment.
At the summit of Cochno Hill, I lie on the grass, catching my breath and surveying Duncolm from a skewed angle. Why, I wonder, did Harry Bell find it so significant? As a vantage point, it's easy to see why the Kilpatrick Hills were settled in prehistoric times – there are tombs dating to the early Neolithic period – and plainly a ready water supply. I'm no geologist, but even I noticed the way the rock formations here appear to be formed from molten lava, a thought which gives me pause as I consider how many changes have taken place here, aware of how I occupy only a small sliver of the timeline.
Thankfully, the walk back is downhill all the way. I'm approached on the track, first by a young man with a fishing rod, then by a group of young guys who ask if I'll take their photograph. When I agree, most of them whip off their tops to reveal milky torsos and for a fleeting moment I think of those early dwellers who once roamed this land. So who are you? I ask. We're the Dunty, they reply in gleeful unison. A different kind of tribe, I think to myself as they go on their way. Where can we see our picture? I call back. On my blog. What's that? they ask. Good question. It's called the Devil's Plantation.
Later, looking at the photograph, it strikes me that these seven young guys, full of life, out having fun on a rare sunny afternoon, may never be pictured together again. They will grow up, get educated, get jobs, get lives. Some will marry, some won't. Some might even remember this day.