On the 900 bus a trio of females – mother, two daughters – occupy three rows, two seats apiece. Each of them has a mobile, each with its own ringtone – George Michael's Careless Whispers the winner in the irony stakes. The younger of the two sisters gets a call – her ringtone some generic electro racket. Hullo? She listens. Who's this? she asks. She listens some more. Unsure but assertive, she speaks up. Who is this? Alerted, Big Sister jumps from her seat to mob-hand Wee Sister, as if her presence alone will threaten the mystery caller. It's…
After my outing to the Devil's Plantation, the next stop is Crookston Castle, but with the days growing rapidly shorter, I'm watching the five-day weather forecast for the right conditions. Every day the gap between sunrise and sunset closes by four minutes, almost half an hour a week, so the trick is to set out early on my 100 mile round-trip.
Carrying camera kit and sandwiches, I take the M8 and M77 to Pollok, the scheme in the south-west of the city where I lived from 1966 to 1977. If I thought my task of recording the area was hard,…
My trip to Castlemilk feels like visiting a distant relative: familiar, friendly but not something you choose to do often. Several of my relatives live – or used to live in the scheme, one of Glasgow's four major peripheral post-WW2 sprawls designed for the fleeing slum-dwellers of the 1950s and 60s, built on the city's greenbelt in response to a desperate need for housing. The word adequate comes to mind – if having a flush toilet in your house can be called adequate.
Beyond suburbia, the schemes bypassed the sandstone villas, semis, bungalows and 'four in a block' cottages closer…
Democracy is a lie reads the graffito. As the peoples of North African and Middle Eastern nations voice dissent against their autocratic leaders, I'm caught short by the message sprayed on a wall on a Gorbals side street round the corner from the Citizen's Theatre. On a biting cold day I pick over the remains of the blowdown of one of the Norfolk Court high-rises and wonder, what would the peoples of Tunisia, Egypt, Bahrain and Libya think if they ever washed up in this city?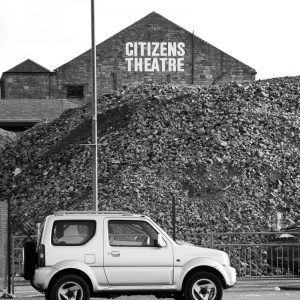 The world turns but in…